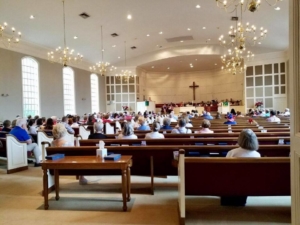 *************
We will be worshiping in the Sanctuary at 10:30 A.M and the Fellowship Hall at 8:30 A.M. 
***********
The services are also Live-streamed simultaneously on Faith's Facebook page.
*********
**********************
******************
Please welcome these performers this Palm Sunday: Shannon Jeffreys-Trumpet, Bihn Diep-Trumpet, Carla Gearhart-Horn, Tim Gearhart-Trombone, Ryan McKinney-Tuba, and Stephen Sivley-Organ.
******************
We welcome Rev. Traci Loveman to the pulpit this morning to celebrate communion with us and bring this morning's message.  Rev. McGlawn is taking vacation this week and will return Thursday, April 6th.
******************
We welcome Adrienne Standridge, the Reginal Program Coordinator for the Society Of St. Andrew (SOSA), to give the minute for mission today.  Adrienne will talk about the purpose and mission of SOSA and about our upcoming Crop Drop on April 22,2023.
******************
Community Holy Week Services, April 3-7
The Southeast Clergy Cluster is sponsoring special services this week hosted by Hope Presbyterian Church, 10001 Bailey Cove Rd. SE (Corner of Bailey Cove and Weatherly), noon to 12:30 with light lunch following.
Speakers:
Monday: The Rev. Earl Freeman, Pastor, Aldersgate United Methodist Church
Tuesday: The Rev. Madison Harner, Minister to Families, Weatherly Heights Baptist Church
Wednesday: The Rev. Christie Ashton, Pastor, Hope Presbyterian Church
Thursday: The Rev. Carl Malm, Executive Director, Huntsville Assoc. for Pastoral Care
Friday: Stations of the Cross on the Aldridge Creek Greenway
(Beginning at Mountain Gap)
******************
Join our celebration of Easter by coming to our Easter Fellowship Breakfast. Our FREE  full breakfast buffet will begin at 9:00 after the Sunrise Service Donations to support future fellowship events will be greatly appreciated
******************
A special need request was detailed in the September 2022 newsletter.  Faith member Angelabel Ewede and her family want to bring her niece and two nephews from war-torn Cameroon.  It will be costly to bring the children here and adopt and care for them.  If you would like to help, put 2840 in the memo line of your check to Faith.  Airline miles may also be donated.  Pastor Burt can answer questions.
*******************
SAVE THE DATE! There will be an Arts and Music Camp at Faith Presbyterian on June 12th-16th from 8:30-11:30 daily. This camp is for children ages kindergarten (finished) through 6th grade. Lots of helpers are needed! Please contact Beth Cape for more information.
*******************
One Great Hour of Sharing (OGHS) is a special offering collected during Lent, especially on Palm Sunday and Easter.  See the insert for details. To support OGHS put #2814 in the memo line of your check. If we all do a little, it adds up to a lot!
******************
Holy Week At Faith:
Thursday, April 6, 6:30 PM:  Maundy Thursday Service with Communion, Sanctuary
Sunday, April 9, 8:00 AM: Son Rose Service, Courtyard (Sanctuary if raining)
9:00 AM Easter Breakfast, Fellowship Hall
10:30 AM Easter Worship, Sanctuary
******************