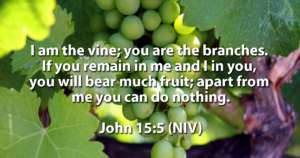 John 15:5-11 and I John 4:7-21 provide inspiration and a challenge to live a life worthy of Christ by the things we do and say and the ways we interact with others.
Take some time this week to ponder and reflect on these words of scripture as you answer the following questions:
How do my words reflect the love of Christ?
How do my actions show God's love to others?
How do my posts on social media provide encouragement for others?
Will others know that I'm a Christian by the way
I live my life? the words I speak? the posts I type?
Dear God, help me to grow in Christ as a true branch that bears fruit in the world.  Give me the words to speak in love.  Show me how to act with compassion. Allow me to be a vessel of God's love to others in the things I do and the words I speak.  Amen.