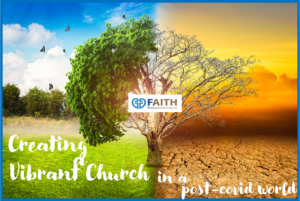 This week's sermon concludes our series on "Creating a Vibrant Church in a Post-Covid World" by looking at how to be a church that is led by the Spirit and not by fear.  As we move forward into this "new way of doing church," we are each reminded that it will take all of us collectively working together to further God's Kingdom here on earth.  Our energy, our passion for the Gospel, and our imagination must be Spirit-led to usher Faith into the next chapter.
The name "Faith" was chosen for this church in 1958 by a group of Presbyterians who were stepping out in faith to form a new church in a new area with a new mission.  They worked hard to serve those in need and enjoyed worshiping together in the name of Christ.
In this new era, it's once again time to step out in faith to re-form a church with a heart for mission and a passion for the Gospel.
How can you be a part of this re-formation?
Where do you find yourself in Faith's new structure?
How can you offer your time, your talents, your hands, and your hearts to the mission of Christ?
Think on these things as you pray and discern where you will serve in the coming months as Faith strives to become a "Vibrant Church in a Post-covid World!"
Dear God, Send your Spirit upon this church as we re-discover and re-claim our mission to our members, our community, and our world.  Grant us patience as we re-claim the best of our past and re-create a place of welcome, acceptance, and love for those who enter our doors.  Give us energy to live out your calling to us as your disciples in a world filled with strife and division.  Inspire us with creativity.  Guide us with Scripture.  Walk with us in companionship.  Enfold us with your love.  In the name of Christ, we pray, Amen.